You know, they say "You can never go back."
I've actually had some pretty incredible repeats in my life.  Like that time at 45 or so, when I had the chance to do a boat ride on the Mississippi River as an adult that very nearly duplicated the ones we took as kids.  There was that other time when I was about 40 and got to see Kansas from next to the stage and heard them sing "Song for America" which they didn't play when I saw them at 17.
I stood screaming at that stage from the balcony for quite a long time, decimated by teenage disappointment.
This time around I'm 61 years old and I'm about to move back into the house I grew up in.
I was 10 months old in 1960 when my parents defied their shocked families and moved from the city of St. Louis, Missouri to Chesterfield, a farming community about 30 miles outside the city.  It was the edge of the world for the families.
We'd moved to a very small house that had been someone's weekend house, but it was perfect for the 3 of us.  I was too small to remember, obviously, but when we moved there, mom and dad could see the Missouri River from the living room.  They could see the light from a "towboat" as it swept back and forth on its journey along the same river Lewis and Clark had navigated 156-years earlier.
As I grew up, while I hated where we lived as a teenager, as a child it was idyllic.  Across the valley, sheep grazed on the hillside.  We used to go over there for the annual sheep shearing.  We got our cat, Smokey, from them when their barn cat had kittens.  They had horses too, who would sometimes come up to the fenced field next to us.  I took swimming lessons at their house cause they had a pool in their lower level!  They were a rich family.  I don't know if I knew that, I just knew they had a super cool thing going on.
Up the street was a pig farm.  I used to play in the hayloft, which in this case, was filled with corn to feed the pigs.  I wheeze just thinking about breathing in all that dust!  When the wind blew in a certain direction, we'd smell the pigs at our house and oh my goodness, that was a smell!!
The house was on the bluffs and down at the bottom of the steep, windy drive, were two more farms.  The one on the left was a very traditional farm with cows, chickens and pigs.  They had a PLAYHOUSE, too, that I got to go to from time to time.  It was an absolute dream for a little girl.
Mary June from the farm was our babysitter (my sister is 3 years younger than me and my brother is 3 years younger than she is) and she was a huge influence on my music appreciation.  Namely, Mony Mony and other choice 60's songs.  My dad was my biggest musical influence, playing The Beatles, The Association, Petula Clark and others.
The kids at the house on the opposite side of the horses, were my constant playmates.  Jean Anne, Christy, Ray and Johnny.  Johnny and I were the same age.  We made mudpies and ate nuts we found, like walnuts which we loved and acorns which we didn't.
One house up was where my mom's boss moved.  I adored his wife, Cathy, who treated me like a person.  I like to say she saw me.  I'd go over to her house when I was 5 or so and we'd have tea.  There was a trail in the woods and I'd use it to get there.  Later the Barnards moved there.  They had 5 kids and we all played or hung out together and enjoyed the horses they had.  I'll never forget little Brandy who was born there and was the sweetest baby horse (filly) ever!!!
There was an orchard at the top of the street and once I picked a peach and lost a tooth biting into it.  I wasn't supposed to get those peaches so I got in trouble.
Across the way from our house was a really cool, subdivision filled with ultra-contemporary 50's and 60's homes.  We knew pretty much everyone who lived there.  There's two smallish lakes where we'd swim as kids.  There is one couple who still lives there who've lived there for at least 30+ years.
My dad was a crazy man.  He'd been a gymnast in high school so when we moved to the country he went crazy.  At one point we had 3 trampolines, a pool, a swing that had bars and ball-bearings instead of chains, so it went all the way around.  All..the…way…around.  We also had a trapeze and a circus net.  Kids from miles around would be at our house after school and on the weekends.
I was always insecure that our house was SO small!!!  Compared to the other houses of my friends from school it was embarrassing and I never wanted to have anyone over.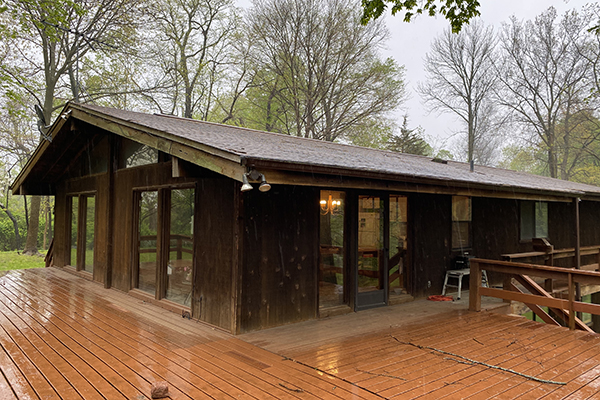 In 1974 my dad told us we were getting a new house!   A neighbor from further up the street, by the way, he had bees and sold honey, was going to build it.  I remember it took about 10 months and we got to move in between Thanksgiving and Christmas.  It was built right behind our little house, so we got to see it change every day.
The new house was everything the little house wasn't.  It was spacious and very contemporary with vaulted ceilings, open floor plan, even an open floor that opened up into the room below and lots of great touches.  Shag carpet in every room.  Lots of windows, some super big ones in the family room area.
But I was a shy teen and wished I lived by my friends.  All of us lived far from other kids and far from each other.  I lived with a melancholy that seemed unshakable.  Too tall, too this or that, I was sure that I was a social reject.  LOL, looking back, I see myself like the beggar sitting on the box of gold, never thinking to drop the story of emotional poverty and to cherish and appreciate what I had.
This brings me to the present.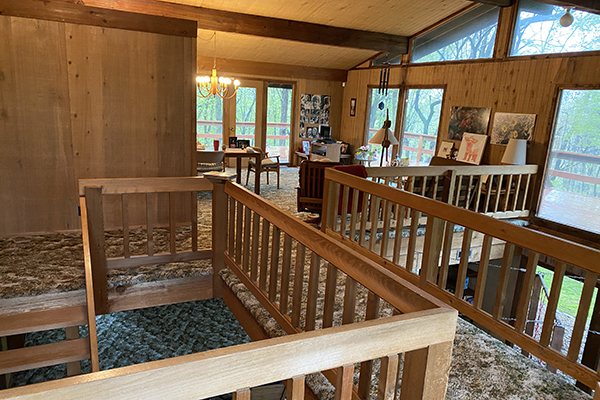 After my mom died in October of 2020, us three "kids" were really only considering selling the house and splitting the proceeds between us and my two nieces.  My sister is the most sentimental out of the three of us and she was really reluctant to sell, knowing in the world today, likely it would get torn down to accommodate a "mcmansion."  3 acres in Chesterfield would make for a nice one.
And suddenly Henry and I thought about buying it.  We'd only been in our brand new, beautiful home in the Shaw neighborhood for a year but the thought of living in my super-cool, family home, nestled in 3 acres of forest and just off the freeway.  Well, it was too amazing to pass up.  We loved the idea of being able to continue to host Christmas there, to have all the family events there, just like mom always did.  So we offered to buy out my brother and sister and they agreed, liking the idea of the same things.  And now, we'll be minutes from my brother and his family as well as Henry's brother and the rest of our families and friends will find getting to our place there, way more central than the city.
We've just put a "coming soon" sign on our house today.  It just went on Zillow about 2 hours ago.  It's been viewed 182 times and has 10 saves.
To a person, everyone I've told has asked if I'll be ok moving to the suburbs since I've lived in the city for so long.  And I will be.  I'll miss the walkability of all the places I've lived since 2006.  The wide variety of restaurants…we don't do chains…and especially the coffee shops!!!  Oh the coffee shops.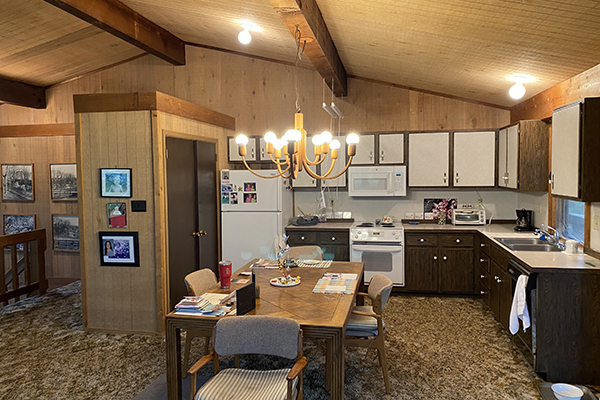 But what about me moving back to my old house?  Steely Dan professed "I'm never going back to my old school."  But this is my old house.  The sheep farm is long gone, replaced by Monsanto, now Bayer's, research facility with ginormous greenhouses that light up the winter sky in a very eerie way.  The pig farmhouse and barn were both renovated decades ago and recently sold for a whopping amount.  Happily, Christy still lives next door as she lives in her former family home.  Henry was really puzzled why I knew so much about her, completely unaware we've known each other our whole lives.
No trampolines, no net, no circle swing.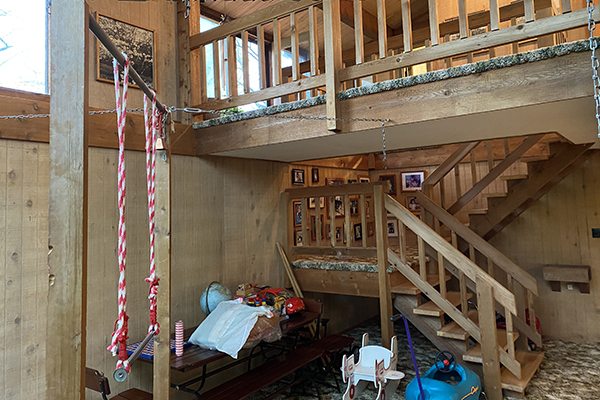 But EVERYTHING in the house is EXACTLY the same as it was in 1974.  It's like a perfectly preserved time capsule, my mom kept it so well.  The shag carpet in the main living area is sort of hilly but funny enough the rest is in really good shape.  The red and blue carpet I chose at 14 is shockingly vivid lol!!  The toilets are tiny and low to the ground.  The counters in the bathrooms and kitchen are short.  It's funny!
And we'll move there with the intent to renovate later.
So what about me moving into my old house.  I've cried.  I've cried at the memories of who I used to be and how I was a mad teenager and terrorized my family, especially my little brother.  I cried at the memories of crying in my bedroom, walls papered with blacklight posters and other 70's and 80's memorabilia, wishing I wasn't so tall or so shy.  Ohmygosh, my room and how it was such a mess, there was only a path from the bed to the door and back.  I remember playing my records…Kansas, the Moody Blues, REO Speedwagon, Riding the Storm Out.  There's still a darling dress from 8th grade hanging in the closed.  And I have those red patent leather clogs from 1974 as well as my favorite pair of bell bottoms from 1977-8.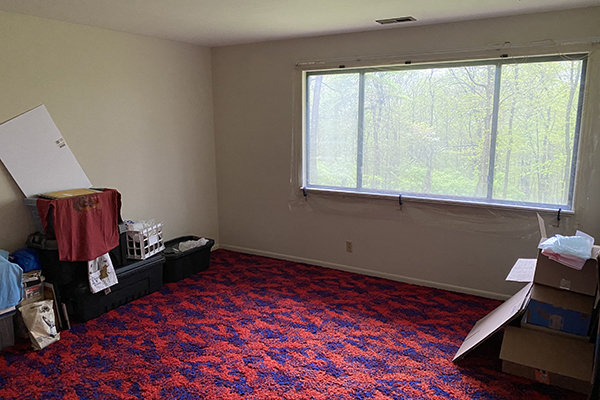 I have darkened my memories.  Feeling misunderstood as a teenager by my parents.  Missing us as a family.  My parents divorced after 30 years and we were all moved out, so it was just mom.  We all have ups and downs as individuals and families, don't we?  I'm just starting to realize how I told myself lots of stories about how tragic my life was.  Lots of stories.
So, in the end, I'm not sure I've really let myself feel the full weight of what it will feel like to live there.  I'm thinking of smudging it.  But maybe not.  Not until I get to live there for a while.  I want to really FEEL the old memories.  Experience the ghosts.  Smell the smells.  Hear the noises.  And heal my younger self.  Seeing the oasis I was living in that seemed like a desert.  Recognizing we were all doing the best we could.
I'm super excited to post this as I've re-friended so many kids from high school…we're like 61 now but we still feel like kids.  And anyway, lots of them live out there still.  In fact, two live in that neighborhood across the street.  I think it'll be fun to have old friends over to the house before we renovate so we can all reminisce and share joy and tears as we cherish memories and each other.
They say, you can never go back.  But I am.  I'm going back home.